S3:E18 – Our Story Pt. 2 - Series Finale
1 year ago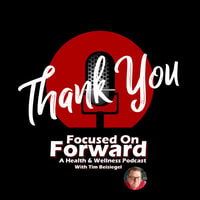 Our Story Pt. 2 - Series Finale
3 years ago I started this journey of storytelling. To be honest, story sharing, is probably more accurate. This journey was started on the heels of the most intense thing I have endured as a person and as a parent, and so I decided to share "Our Story" in Episode 1. My daughters diagnosis of Guillain Barre Syndrome (GBS) and the 97 day hospital stay to follow shaped our future more than we would know at the time. Coming home from the hospital didn't take away the problems, and it made me want to know how to move forward in life. I wanted to talk with people who had endured all that life could throw at them and who walked away with their heads held high. Those who had looked life in the eye and decided to fight back. Those who were TRULY - Focused on Forward. And for 3 years you have joined me on this journey. You have heard these amazing stories from truly inspirational people who are choosing to be Focused on Forward. These people are the stars of this show and I am forever thankful that they entrusted me, just a guy Michigan who had been through some stuff to help them share that story. I am deeply honored.
Today though, we close out the show. This is the series finale. And I say WE for a reason - today I am joined by my daughter Kendall and we talk about Our Story Part 2. How we got from there to here ...
And again ... from my family to yours, THANK YOU!